Hello friends. I hope this blog finds you well. Do you guys remember that short tour of record stores that we said we were going to do? Well, we are still going to do them, and to make it easier for you to remember to participate, the good people at Extra Large Recordings have prepared this eFlyer for you to look at. Behold!
Damn, that looks sharp. Well, now that we have that out of the way, let's get down to more serious (read - YouTube related) business.
Did you happen to see this video of us that was posted on PitchforkTV a couple weeks ago? It was from a performance we did at their offices as part of a birthday party for Pitchfork founder Ryan Schrieber. Do you like it? It is just another classic from the magical eyes of Ray Concepcion, who really stepped up his usual game into new, more psychedelic, high-octane territory. Yr crazy for this one, Ray! It will also give you a chance to observe Dave and Amy outside the context of a still photograph, which isn't really very helpful when you are wondering what something sounds like, know what I mean?
Speaking of PitchforkTV, you know what video I like to watch on that website? This one, of the National performing their song "Mr. November" from the album
Alligator
. This song gets me pumped up! It is a great song to sing to yrself when you need to get psyched, like how Ally McBeal used to sing that song to herself to stay focused and motivated. Remember? Ally McBeal? Anyway, this is a sweet song.
I'll tell you what isn't often said about the National, though - this singer seems to be taking a lot of his cues from late period Joey Ramone! Check out this video and see if you don't agree - it is from the last Ramones concert, a performance of "53rd and 3rd" featuring Tim Armstrong and Lars Fredriksen from Rancid!
Speaking of Lars Fredriksen, did you know he did a cover of the Billy Bragg song, "To Have and To Have Not?" Well, he did. Observe.
I can't help but imagine I would have felt differently about that in eighth grade than I do now. I still love that Billy Bragg song, though - it is so beloved around here that it was the last number played at nearly every show of last autumn's "Bring On the Dudes" Tour that we did with the So So Glos. Did you realize? Maybe if you went to one of the shows you did. Anyway, here we are playing it in Montreal way way back in September of 2009.
And now for something completely different. Recently, our old friend Dan Tews shared this picture with me on Facebook - an image of a badass king standing in front of a truly impressive collection of generic Dr. Pepper equivalents. Check it out!
Now, if you know me, you know I consider myself a pretty serious connoisseur of generic Dr. Pepper equivalents, but even I have to bow down before this guy. Some of my favorites from this picture which I have yet to encounter in real life include Dr. Extreme, Dr. Good Guy, and Dr. Radical. The two greatest ones, though, have got to be Dr. Becker, like Ted Danson's early '00s sitcom character, and Dr. Bob, the doctor character that Rowlf the Dog played on "The Muppet Show."
Also included in this masterpiece is Dr. Path, which, as some of you who have been paying attention will remember, got a shout-out in our song "Arms Against Atrophy." You see, Dr. Path was the Dr. Pepper equivalent sold at the Path Mark in Fair Lawn, NJ - three liters for a dollar. Unbelievable! Yum. For Christmas 2003, my friends all chipped in and got me 35 3-liter bottles of the elixer, with the condition that I accept a challenge to drink the whole stash before our high school graduation the following June. That is why I sang, "By June 22nd, I have done the math/it's 105 liters I'll consume of Dr. Path." Get it?
Speaking of that song, yesterday was the 23rd birthday of one-time Titus Andronicus keyboardist Matt Miller. You probably never saw him play with us - this was back in, like, 2005. I can't find any pictures of him when he was in the group that I am able to resize properly and yadda yadda yadda, so here is a picture of me and him dancing our asses of at our cousin Erin's wedding last year.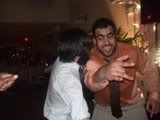 Anyway, while he isn't in the band anymore, he is still a great cousin, and I rather enjoyed celebrating his birthday last night with a screening of "House Party." Ace! I guess my point is, Matt Miller used to sing a solo on the song "Arms Against Atrophy," and so I wanted to share with you a recording of that song featuring his great voice from one of our early practices. Hope you like it!
Okay, that's probably enough for now. I guess what I am really trying to say is that I hope you like the eFlyer for our record store tour we're doing!!
Yr friend,
Patrick